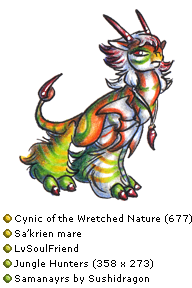 She could feel the eyes on her as she scrambled up the rocky slope, avoiding the traps her sire had created. Black eyes, orange eyes, gold eyes, and even a pair of red eyes, eyes as red as her own. Watching her, daring her to try to come back to the Song of her birth. Her siblings were still there, hiding behind their parents.
Parents who had chased her away, after naming her. Cynic, they called her, and Wretched Nature. Because she was, and because somehow, she and her siblings had been born with tiny,
useless
wings. She had seen the way her aunt could fly, and longed to do the same. Only to be told that it was impossible.
That resentment, and anger at her sire (for it had to have been him that the wings had come from. Her dam had confirmed no wings on her side, and her sire had refused to speak on the subject. Therefore, it was his fault) had brewed, brewed until she turned on her siblings, and started terrorizing them.
Now, barely old enough to survive (but survive she would,
thank you very much
) she was on her own.
She
had no need for others, no need for those who could celebrate flight and love and
happiness
.
Ahead of her stretched the grasslands. She was on her own.
~~~
She was on her own, and hungry. She'd learned some hard lessons, crossing those grasslands. Earned some new scars, as well. Given out quite a few, and left several dead behind her. Wasn't her fault her poison tail actually had poison in it, instead of that knockout drug her sire had. She'd proven mostly immune to it herself, as well. Which was all to the good, because it meant that she was able to keep herself fed.
Raw red flesh tasted so much better than cold slippery fish. Unfortunately, both had been somewhat scare on the grasslands. She kept going though, because if she had to turn back, she'd rather have died fighting. Hungry for food, ribs starting to show, and covered in dust and some blood, she'd stumbled upon a well-traveled path. Eying it carefully, she had decided that following it to wherever it led was better than starving. And if there were travelers on it? Well, they might not end up traveling very far in the end. Her belly would be full though. And at the moment, that was the only thing she had cared about. Her decision made, she started along the edges of the path, which had led her here.
~~~
Which had lead her to here, the Rainbow Hotsprings. Famed center for all Samanayrs and their ilk. Plenty of companionship, warm springs, and food.
Unless you were born with red eyes, hooves, horns. Then you were attacked, chased, run off. Red eyes narrowed, Cynic surveyed the area. It was nearly night, and the last of the soft-Sams were heading off to bed. Off to their loved ones, their Songs.
Leaving the pools, and more importantly the food, to her. Various large dragon creatures lived here too, and they ate meat. Lots of meat. Meat that she could smell. Drool pooling in her mouth, she forced herself to stick to the shadows, the edges of the clearings. Red eyes focused on her goal, and ignoring all else.
(Oh my goodness she has a nasty little attitude o.o And yet somehow so very fun to write XD )