---
((Popping in with this~))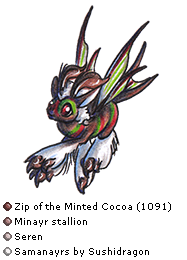 The small stallion trotted along the forest floor, peering around as his luscious curls bounced here and there with each jogging step. It was too hot for him to fly, his little faery wings would surely make added heat to the already warm and buzzing day. But this was alright, surely walking – or trotting – would get out more of his energy, no doubt his lovely and ever so sweet mares would enjoy the break from his constant moving around. He would just have to snuggle in between them and fall asleep, and doubtlessly they would be pleased with that. Even under the shielding leaves, he could feel the sun. The sun, on days like this, made his hair gain extra volume. But that wasn't a bad thing, because it made his mares laugh, and he loved to make them laugh!

With a yawn, the dashing little winter-loving Minayr traveled on. He wanted to find something that would cheer up their home – something that would make his beautiful and vibrant mares happy. Flowers could work – maybe he could try and plant some flowers for them… or a baby mint bush, either or would be fantastic. Zip yawned again, waving his fan tail back and forth in an attempt to make the unending heat go away. He liked warmth in the winter, when it was cold out and everyone liked to snuggle together.

As he trotted along, his faery wings rasping softly against one another, he noticed a large patch of flowers through the trees. Perfect! Maybe he would be able to find the perfect flowers for his mares, but not until after he loop-de-looped for them – to show how excited he was for being home, of course. Bounding into the flowers, he sniffed around. Looking at the leaves of these flowers reminded him of his favorite, and very succulent mint leaves. With his eyes half shut he reached out to pull off and nibble on one of the leaves – imagining his little stash he left at home. But instead of a mildly squishy leaf, he felt a furry, though sweet smelling, thing between his teeth.