---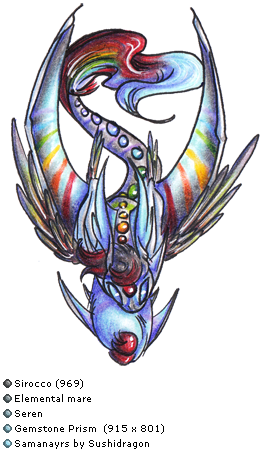 The air was chilly, causing little steam clouds to float with every blow from the young Samanayr's nostrils. Her pure blue eyes were wide in thought as she gazed across the splinter-like treetops, precariously perched on a high branch, her strong tail muscles securing her in place.

It was a gray world today. Gray light filtering through the gray clouds in a smoky sky, dark gray mountains capped with white snow, dark gray claws of trees reaching into the air as though to tear through the cloud cover and demand sunlight. A pair of tiny wings flapped, blowing more chilled air over her face, as her delicate ears pricked to catch the crunch of snow as some creature in the woods disturbed a branch. Most days she would hurry off to investigate, darting through the trees with a playful winter wind tailing her.

But most days she was light and free and happy, no matter what weather or zephyr was tossed her way. But not today. Today, she was heavy, like a fat raincloud on a summer's day. She was lonely, and her wingbeats had no echo, and when she spoke, no one answered. It was a sad day, and the gray skies, for once, effected her. A soft sigh turned to steam in the cold, ice crystals sparkling over the branches around her that had not been touched with the solace of her heat.

She thrummed in her throat, taking off with a mighty whoosh of giant wings capable of gliding for long distances, and flying even farther. Winds whipped past her face, tugging at her muted rainbow of a tail, as she raised her head to the west, welcoming it with a soft challenging trill. She was headed to the shore, and nothing would stop her today. She needed the company of the one Samanayr who made her complete, instead of one lone trickster whisking herself through vale and hummock, teasing flocks of birds and the occasional Song, delighting foals with her silly antics and annoying the grownups.

She knew that Depths went on these journeys into the Deep, like she went up to the mountaintops, but it still sometimes plagued her that while they could explain it to one another, and would laugh at such stories, they could never quite experience them. She hurriedly huffed away the melancholy thought, diving down towards the shores, where dark gray-blue waters hugged the earth and rocks.