This is an RP to just pass the time. Please join whenever youd like and just have some fun! Sam accents are not required if you dont want to use them in this rp, as this is just to have fun and get to know eachother!
Please post a picture of your certed sam *the one with the name please* and then get to posting!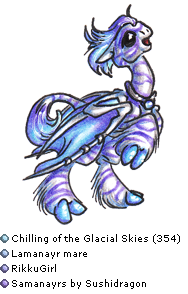 Chilling sits under the willow tree that overlookes a large lake. Her bat wings are tucked neatly to her sides. The wind blows gently as if coaxing all out of hiding. She smiles big as the sun emerges from the semi-overcast clouds.
"What a beautiful day" She says outloud, her voice is sweet and cheery. "I wonder who all is around today..." She stands up and lookes around, swishing her tail back and forth as she does so.