The large open meadow that has thousands of flowers from daisies to roses to tulips has always been a favourite place of many sams. Usually only the most social of sams reside in such a colourful and bright place, but sometimes reserved and quiet sams choose to make a home in such a wonderful location.

There are a few cherry blossom trees scattered about and since it is early spring, they are in full bloom. Some petals find thereselves on the ground after a brisk blow of wind sends them packing.

The sky is usually bright and sunny in the meadow, but it does rain and when it does it pours. And when it rains, all the sams seek refuge under the trees or underneath the bushes.


This RP is about the busy life of the sams who reside in the meadow, or who come and try to find a song by wandering.
I'll be RPing Spice of the Fragrant Flower also known as "Spice". She is very peppy and loves to socialize. She is quite lonely though, though she finds friendship with the flowers... odd, right? She wishes for a song of her own, and she can often be found singing softly to herself or talking to a flower.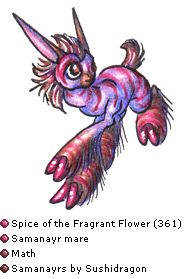 Everyone is welcome, mares, foals and stallions.
If you have a stallion that is songless, you may also try to find some mares for your song by persuading some of the RPing mares.

-----------------
As Spice stretched her long legs, she yawned. Getting up, Spice headed to her favourite flowers... the roses. As they swayed in the wind, she let out a sigh. She watched a few songs romp after each other, she thought about how she wished for a song of her own.
Walking over to sit underneath a cherry blossom tree, she hoped that a sam would approach and start a chat with her.