((
Hum-de-dum-de-dum
Let's see if I can juggle this one too! It just looks too fun to pass up! I'm going to say this happens after these two have parted company from Gyre's Song in the Shore RP.))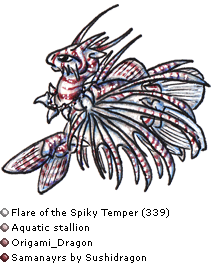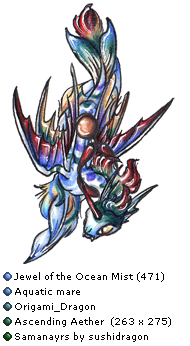 Some distance away but closing fast on the coral reef two Sams raced through the water. In the lead and gaining was a laughing mare whose powerful tail beat the water as all three sets of her wings were held flat against her sides. She had decided earlier in the day, after growing board again, that it was time that her friendly neighborhood grump of a new friend really needed to get out of his reef more often and go meet others. To that end she had stolen his sharktooth necklace while he was dozing yet again and was currently wearing it like an odd sort of crown, supported by her horn and finned ears.
Though the stallion was far more experienced in the ways of the ocean, he was also growing old, past his prime, and simply could not summon the same sort of speed anymore that the young mare was capable of. In the beginning Flare had kept up quite well, but now he was flagging, and Jewel was having to slow down to keep him with her.
"If you swam moyre and slept less you'd have this back by now,"
she trilled back at him.
"Lazy bones need theiyr exeyrcise still!"
However, Flare was not listening any longer, but rather had stopped completely, staring suspiciously at the reef ahead. He'd been sure that Jewel was merely leading him in circles around his
own
reef. But the scenery here was wrong. All wrong.
"Flibertygibet! Look wheyre you've gotten us now do! Not my yreef this is! Someone else's I'm suyre!"
"And I'm suyre no one else is so clingy about 'theiyr' yreef Flayre. I want to meet the neighboyrs!"
Jewel flicked her head, almost sending his necklace plummeting into the ocean and then dove. He was just being silly, as usual. And now she'd gotten him over here, to the next reef system to the one he lived in. She was sure that someone must live here, that the reefs were the oceanic form of hotsprings such as where she'd been born. And before she settled down with Flare she was going to see who lived nearby.
As Jewel vanished into the sparkling sea Flare grumbled and tossed his head, visibly upset. Young stallions abound in the world nowadays. Most likely there was one here, one who would find Jewel intriguing. He'd get her out of Flare's fins. Yes, he'd take away the first mare who'd hung around Flare in ages. Probably get the necklace from her too. Small loss, there were plenty more shark teeth to be found in the ocean. Let her explore, he could sneak off to have a nap again before she noticed he wasn't following.
And that was why Flare found himself drawing a deep breath and following Jewel down into the strange reef, keeping a careful eye out for the creature he mimiced. He'd marked the spots they lurked in his reef to avoid, but the last thing he wanted was territorial challenges from the venomous fish. No, scratch that. Courtship from one was worse. Oh, and sharks. And jellyfish. Oh, and probably that giant vividly marked Sam-thing that Jewel was swimming for. Wait a second...what? Flare froze in the shadows of the reef, not noticing the mare tucked into the coral only a few feet below him.