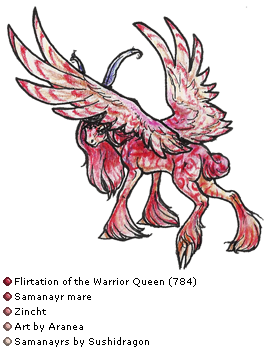 Samanayr name:
Flirtation of the Warrior Queen
Gender:
female
Species:
Samanayr
Age (foal, yearling, young adult, adult):
Young Adult
Physical description:
bobtail. feathered wings, crown
Personality:
Flirt is very strong-willed and independent, and she always gives everything she has to whatever task is at hand.
Abilities (magical and otherwise):
flight, flirt.. they're so similar!
History:Song:
None yet. No settling down for her!
Likes and dislikes:
Flirt is very active, and often passionate about things- though her passions may change daily! She has enough determination to see things through to their conclusion, though she may change her mind once they are accomplished.
Aspirations and goals:
Flirt wants to see the world. She can think of nothing worse than having to be tied down to one place and people. Sams are sams, but there's a whole world of new, exciting and interesting things out there.
Fears:Favorite color:Odd fact: