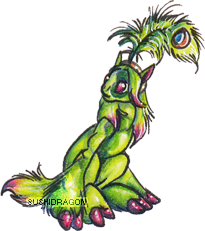 Samanayr name:
Abundance of the Cool Summer
Gender:
Mare/Female
Species:
Samanayr
Age (foal, yearling, young adult, adult):
Young Adult
Physical description:
You can see the picture, yes?
Personality:
A whimsical, happy-go-lucky girl with a distinct love of singing, nature, and Bounty of Summer Deep. She is fairly shy around new people, but can be very outgoing around those she's know for a while.
Abilities (magical and otherwise):
N/A
History:
Wandered around for a long time searching for the right stallion for her. Often, the stallions that she met would turn tail and run the moment Abundance started singing. But, one day, she met Bounty. Within minutes of meeting him, she had filled the last spot in his Song, the Song of the Summer Rainbows.
Song:
Song of the Summer Rainbows
Likes:
Singing, humming, nature, Bounty, dancing.
Dislikes:
Meanies.
Aspirations and goals:
To live life to it's fullest.
Fears:
Fire, Death, Hurting others, Her loved ones being hurt.
Favorite color:
Pink, followed closely by several shades of green.
Odd fact: I had originally based her personality around Bounty's because they looked so dang cute together. XP