Username: Toxick711
Song name: Song of the Fallen Light
Song URL (if applicable):
http://samanayrs.com/displaySearchSong. ... en%20Light
Sire's name: Misery of the Fading Light
Sire's ID or image URL:
Dam's name: Rumble of the Thunder's Tide
Dam's ID or image URL: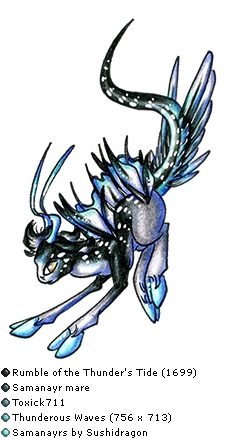 Primary Modiems (if any): 2 Species (Mystic) One is traded in the trade forum the other I have now
Secondary Modiems (if any): 1 Color and 1 Pattern (Keep the Mothers design with a little less grey and add soft pastel rainbow colors)
One-use items (if any): Nope Thanks
Do you have all applicable permissions? Yes, shes in his song.
Would you like to be notified by PM if your pair is successful (PI or Sam forum)? No
Thank you
EDITED*******Sorry it's reduced. woops