Oh, what variety Sams can come in! And Luster adores the whole range! So he wishes to showcase as broad a spectrum of varied mares as are willing to join him. See how lovely they all are?
The Song of the Varied Delight is a semi-open Song. Permission from Delicious is required to breed with Vibrance

Song ID:
448
Stallion:
Luster of the Iridescent Chestnut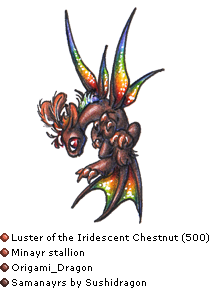 Mini, Talons, Faery Wings, Large Ears, Furred Antennae, Fan Tail
Lead Mare:
Vibrance of the Warm Sunlight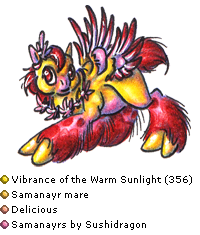 Double Wings (Vestigial Wings (Feathered)), Pudgy
Mares:
None yet
Luster's Song has room for three more mares. He is in love with variety and while he loves all types, he is especially interested in Sams with traits not already represented in the Song. If interested contact Origami_Dragon.
Offspring:
None yet
Inventory:
Empty