Traveling through this territory, it's entirely possible you won't encounter the rather shy stallion who lives here.
The Song of the Promised Lands is a Semi-Open Song; Bramble requires permission from LvSoulFriend to breed.

Song ID:
453
Stallion:
Blast of the Bleached Sky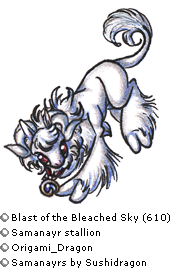 eonine Mane, Tufted Tail, Albino
Lead Mare:
Bramble of the Sunwashed Prairie
Barbed Ears, Pure Black Eyes, Dainty Hooves, Head Mane, Tufted Tail, Feathered Wings, Head Wings
Mares:
None yet
Blast still has room for three more gentle mares in his Song. If interested contact Origami_Dragon.
Offspring:
None yet
Inventory:
Empty