[Song of the Sapphire Dreams]
King is a proud stallion, with a habit of "collecting" pretty things, including his mares!
He prefers mares with blue, wings or shiny things!
He cherishes and adores all his mares, enjoying each of their personalities and the traits that drew him in.
If you get a baby from this song please let me know! We're nosey ;D
Status:
Open!
No Permission Required:
King of the Sapphire Corvids
Shard of the Frsoted Dream
Requiring Permission:
None!
- - - - -
[Stallion]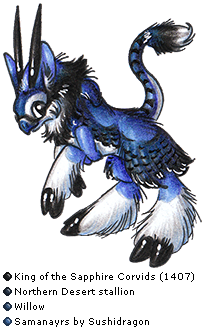 - - - - -
[Lead Mare]
- - - - -
[Other Mares]
None yet!