Thanks so much for entering, everyone! It was so much fun looking through breeding forms again and seeing all the excitement about potential pairings and foals <3 I hope you all had fun too!
Bluestarwolf12 offered to draw a foal for someone as well, so we have TWO winners:
RikkuGirl
and
LvSoulFriend
! Congrats! Your foals will grow in about a week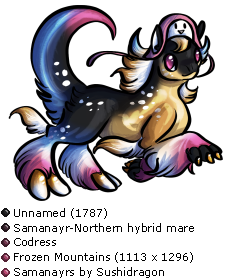 --
Hi everyone, long time no see! I hope you're all doing well and sorry for disappearing for so long. I'm still active on places like Facebook and the Discord but the forum was down for a while because I never updated it and it was finally no longer compatible with the server's PHP version XD; A big thank you to Oakleafwolf's friend Moose for getting the forum and the database back up and running again!
Speaking of mooses, I drew this digital Sam to say thank you to Moose:
Whooooa, it's a digital Sam! Unfortunately I'm still on the 4-year waitlist to see a specialist about my hand but most of the time digital stuff is still okay, so it's about time I start drawing Sams again! I wanted to dip my toe in by drawing a single breeding and seeing how that goes. I'm going to please request no twin/triplet modiem combos this time, sorry XD;
You can read all of the breeding information and rules here:
http://samanayrs.net/forum/viewtopic.php?f=15&t=159
If you don't have your own Samanayr
- you can still apply for a breeding using Samanayrs from an open Song! When a Song is open, it means that anyone can apply for a breeding from the Song without needing permission from the owners.
You can search the database for open Songs:
http://samanayrs.net/database.php
If you need permission to use someone's Samanayr
- it's up to you to get that permission, and there's no permission form to send in. However, if you apply for a breeding from a closed Song and
don't
ask permission from the Samanayr's owners, your foal will be repossessed and you will be banned from Samanayrs for a time. If you're worried about getting permission in time, there's lots of open Songs to choose from!
To enter the draw, just apply to this post with the following form filled out:
Username:
Song name:
Song URL (if applicable):
Sire's name:
Sire's ID or image URL:
Dam's name:
Dam's ID or image URL:
Modiems (if any):
One-use items (if any):
Do you have all applicable permissions?
If a Samanayr doesn't have an ID number, just provide a link to its image.
The draw will be open until
July 10, 1pm PDT
- good luck!